Christian Community Church is here for you.
We want welcome you to come to our Church Services which are every Sunday morning at the Kinsmen Hall on the "Cheticamp Back Road" at 10:30 AM. Home Bible Studies are each Wednesday. To find out where go to Church Bulletin. We are a fellowship of believers coming together to declare the glory of the Lord and celebrate Jesus as King. We study the Word, seek to practice what we learn and in the process grow together. May God richly bless you!
We want to encourage you to keep returning to this site as we will be constantly adding new material. Check in often and if you are blessed then recommend the site to others.
——
Be sure to check out the sermons page and listen to or download messages from home studies and church services
There are stories and info in the archives page as well.
Scroll down to see what the latest postings are
=========
If you are new to this site the pastors wife, Marie Chiasson was diagnosed with stage 4b liver cancer in Nov 2013 and there are updates posted here so people can pray. We believe God answers prayers mightily!!
New!!!
Update on Marie's health as of Dec 1st 2014
First we want to extend a grateful thank you to everyone who has supported us on this journey. Your concern and prayers and gifts have been really appreciated.
Marie had a cat scan in Nov and we saw the Doctor a week ago. The report was good as all but one of the tumors have shrunk. One of them in the liver has increased by a millimeter which the doctor said is not significant. The only issue is an ongoing low grade fever (37.7C or 100F) that requires a continuous use of Tylenol to keep down. This fever showed up as a side effect to the chemo treatment and it was controlled by the steroids and then it would go away prior to the next treatment. This time it is a month since her last treatment and the fever is still showing up. It could be the accumulated chemo in her body or the fever could be cancer related. We are unsure. It is not from infection as her blood counts are good. We are rejoicing in the Lord for her relatively good health considering the diagnosis a year ago. Marie will be off chemo until the middle of January and then she will have a cat scan to see what is happening then. She has been quite active in the last month preparing Sunday School lessons, doing puppet plays, attending services and organizing our daughter's wedding shower and planning and shopping for the wedding on New Year's Eve. We covet your ongoing prayers for her and especially that this fever would dissipate. We are still being wonderfully upheld by the Lord in this journey and by God's grace we are asking God for the best but are also ready for the worst.
Click on the link below to read the earlier reports and to view the history of our journey with Christ and cancer.
===========================================================================
These are stories of how people came to know God and what He is doing in their lives. There are many more on the Testimonies page

Testimonies
==========================================================================
Louis Charrier is a pastor in southern Louisiana. (Cajun Country) He shared his story with us at Bible Study in Cheticamp.
He was a star track athlete as a young man but when his young sister died he began to wonder about spiritual things and what happens after death. Listen to this exciting story of how he discovered faith in God and the strength that God has given him with difficult trials that he has faced over the years.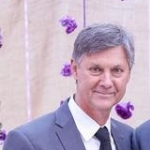 ==============================================
If you are looking for a sermon and it is no longer here then it is on the sermons page.To listen
to it or other messages click here -

Sermons



==================================
In this introduction to the gospel of Luke We discover that the purpose of this gospel is so you might have certainty. Do you have certainty? You can know for sure that Jesus is who He says He is and that the gospel is true.
===========================================
In this portion of Scripture we see the wonderful miracle of the virgin birth. Mary who was blessed of God was given the privedge of bringing the Savior into the world. Her surrender to God is a shining example for us to say to God "I am Your servant"
When John the Baptist was born his Father Zacharias was filled with the Holy Spirit and declared a wonderful prophecy about John and also about Jesus and the salvation He would bring. He calls Jesus the "Dayspring" or the "Rising Sun" from on High. Jesus the son of God can shine in your heart and bring salvation and a wonderful deliverance. Do you have what Jesus offers?
—————————————————————————————————————–
There is a strong message here to warn us away from the pursuit of riches instead of the pursuit of God
====================================
In 2007 Marie and I and Grace were on the television program "Tribal Trails". We sang together and Marie and I shared some of our story of how we came to Christ. Below this video are pictures of Marie and I before we were Christians on a powerpoint file.
Right Click and open in new tab
Here are a few pictures of Pierre and Marie Chiasson from 1977. This was at a time when we were lost in sin and the drug world. Jesus came to us and rescued us and gave us a brand new life.
There are a few present day pictures as well
Powerpoint file Pierre and Marie before conversion
==========================================
In 1999 we did a 1/2 hour cable TV show called "Hope Cape Breton". Here is that program. The musicians were myself (Pierre Chiasson) Rob Reid, Winston MacEachern and Mark Tobin.
Right Click and open in new tab
https://www.youtube.com/watch?v=yjLfE5v9juM
================================================
Watch a short clip of singing at church
=================================================
Here is a word file copy of a book that is life transforming. Next to the Bible this book has blessed me in my Christian walk through the years, It is public domain so download and enjoy.
Hudson Taylor's Spiritual Secret
=================================================
Free songs are available on the "

Music

" Page
———————————————-
-To see videos of Baptisms in the ocean click below-Baptism Videos
————————————————————————–
Here is a short video filmed in the highlands of Cape Breton with an important message for you.
———————————————————————–
Some of the material that was on the front page has been moved to Stories and Testimonies and Archives Pages (See Menu)