We have moved from the Kinsmen Hall to our new building.
Praise God for all His Provision!
We are now at 14044 Cabot Trail in Point Cross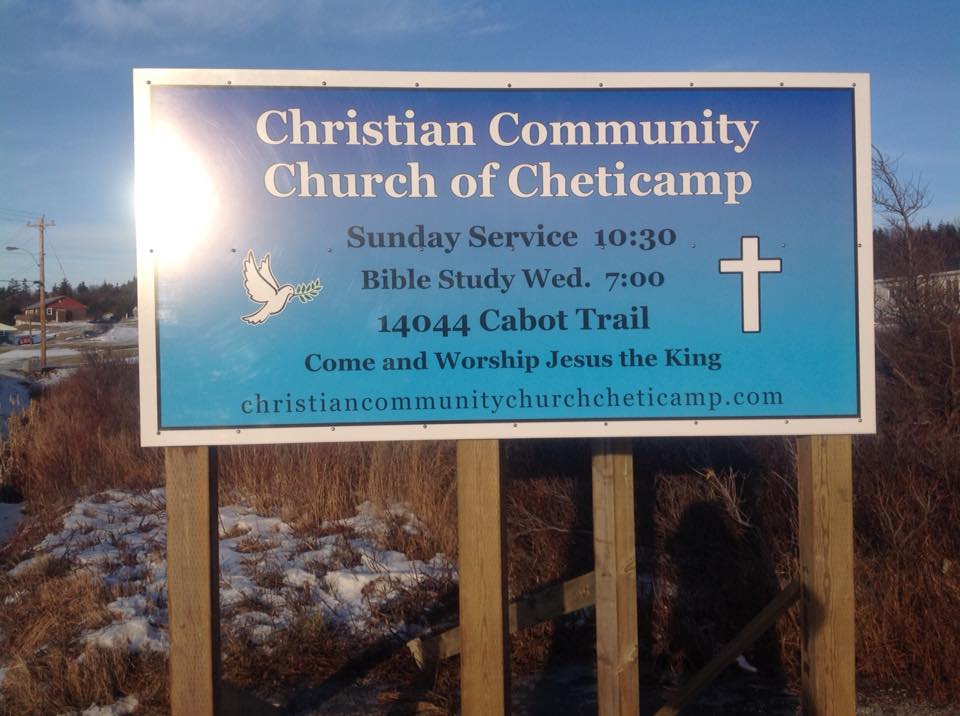 To see what has happened with our church building project click below for pictures and updates
=================================================================================
First Sermon in our new Building Nov 1st 2015
=================================================================================
Christian Community Church is here for you.
We want welcome you to come to our Church Services which are every Sunday morning at 14044 Cabot Trail in Point Cross Cheticamp, N.S. at 10:30 AM. Home Bible Studies are each Wednesday. To find out where go to Church Bulletin. We are a fellowship of believers coming together to declare the glory of the Lord and celebrate Jesus as King. We study the Word, seek to practice what we learn and in the process grow together. May God richly bless you!
We want to encourage you to keep returning to this site as we will be constantly adding new material. Check in often and if you are blessed then recommend the site to others.
——
Be sure to check out the sermons page and listen to or download messages from home studies and church services
There are stories and info in the archives page as well.
Scroll down to see what the latest postings are
+++++++++++++++++++++++++++++++++++++++++++++++++++++++++++++++++++++++++++++++++++
If you are new to this site the pastors wife, Marie Chiasson was diagnosed with stage 4b cancer in the liver and lymph nodes in Nov 2013 and there are updates posted here so people can pray. We believe God answers prayers mightily!!
Update on Marie's Health Jan 5th 2016
It has been 2 1/2 months since Marie was on any chemo. She had a "Cat Scan" on Dec 29th and we saw the doctor today for the results. The results show that there has been some growth in the tumors in her liver and abdomen. It is not rapid so we have agreed in consult with the doctor to hold off on any treatment for at least 6 weeks. If she feels good then we will wait longer. She has been feeling quite well. She still has some tiredness but she is quite active. With the use of a very small amount of steroid she no longer has any fever issues. The doctor does have a chemo he could try but for now we will enjoy the break from it and keep praying for God's continued intervention. Should the tumors get to the point that they are a danger or are affecting her well being then we will resume treatment. We again cannot put in words how much we appreciate the love care and prayer that we have felt from so many. Thank you and please continue to pray. It is now over 2 years since the first diagnosis and we are enjoying life and enjoying the Lord.
Here is a history of our journey with cancer but more important our journey with Christ in it. (Click below)
===============================================================================
These are stories of how people came to know God and what He is doing in their lives. There are many more on the "Testimonies" page. If you are looking for one that was advertised on facebook and it is not here then you will find it on the "Testimonies " page.
+++++++++++++++++++++++++++++++++++++++++++++++++++++++++++++++++++++++++++++++++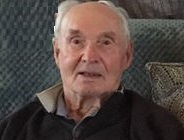 Henry is 94 years old and here he shares his journey of coming to faith in Jesus Christ and what God has done in his life.
======================================================
Randy is a Policeman from South Carolina who shared with us his journey to faith in Jesus Christ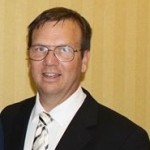 Click on link below
]]]]]]]]]]]]]]]]]]]]]]]]]]]]]]]]]]]]]]]]]]]]]]]]]]]]]]]]]]]]]]]]]]]]]]]]]]]]]]]]]]]]]]]]]]]]]]]]]]]]]]]]]]]]]]]]]]]]]]]]]]]]]]]]]]]]]]]]]]]]]]]]]]]]]]]]]]]]]]]]]]]]]]]]]]]
===========================
If you are looking for a sermon and it is no longer here then it is on the sermons page.To listen
to it or other messag
es click here –
Sermons
===============================================================================
Here is a home study in Cheticamp on Psalm 86. In this Psalm we see that the writer is in a desperate situation but He turns to the Lord and finds that God is glorious and awesome and able to meet every circumstance. Listen in as we discuss the trials and needs we often face but also the wonderful character of God and His passionate care for for us
++++++++++++++++++++++++++++++++++++++++++++++++++++++++++++++++++
This message from Luke 11 brings home the need of being on the Lord's side. Who's side are you on. You can't be on both sides. The only way to be on the Lord's side is to yield the control of your life to Him. Many people think a little bit of church and a little bit of prayer will put them on the Lord's side but here Jesus brings out the necessity of being all in with Jesus where we experience the power of God transforming us and filling us with His Holy Spirit. Don't get caught on the wrong side at the end of life. Trust in Jesus today and experience His power within!
—————————————————————————————————————————————–
While it was amazing and incredible to have Jesus walking among us, He said it was necessary for Him to go so that the Holy Spirit would come. And He did come on the day of Pentecost. This was a wonderful day planned by God so that the church might know the power, purity, and proclamation of God for them and for the world. Listen to this exciting sermon on this passage in Acts 2 as the Spirit comes in power on the people of God. This is for everyone who believes in Jesus Christ. True Christianity is powerful and effective. This can only happen when the Holy Spirit is in control. Are you filled with the Spirit or are you living on your own resources? There is a vast difference between these two positions.
00000000000000000000000000000000000000000000000000000000000000000000000000000
God is looking for us to really pray. Not token prayers, not repeating words without meaning and not just praying once in a while. When there is urgency and necessity then we are often passionate in our pursuit of God but when there is not then prayer becomes infrequent and sometimes stops altogether. If we could see how much we need God for every hour of living and that He wants us to persistently come to Him so He can bless not only in the answer to our immediate crisis but so that we get to know God more intimately and discover the greatest need and the greatest blessing is God Himself!
===============================================================================
We probably have all heard or said the prayer called the "Our Father". Here in Luke chapter 11 as the disciples heard Jesus praying they asked Him if He would teach them to pray. He gives them a pattern for prayer that is beautiful. Why don't you take the time to listen to this message with your Bible open to Luke Chapter 11 verse 1 and follow along as we learn how to pray. Not just repeating words over and over without really thinking about them but finding out what God wants in prayer in your life.
—————————————————————————————————————————
There is lots of confusion about the term "Born Again". Why not look at what Jesus said about it in John Chapter 3 in the Bible. He is not going to confuse us. He wants us to know the truth. In this passage Jesus makes strong statements such as "Unless a man is born again he cannot see the kingdom of God" or "You must be born again". If I am to follow the teachings of Jesus then I must accept that being born again is a necessity. If that is so then we all need to know what "Born Again " means. Here is a message that takes you through the passage of scripture so that there can be no doubt as to its meaning and its application for your life.
====================================
In 1999 we did a 1/2 hour cable TV show called "Hope Cape Breton". Here is that program. The musicians were myself (Pierre Chiasson) Rob Reid, Winston MacEachern and Mark Tobin.
Right Click and open in new tab
https://www.youtube.com/watch?v=yjLfE5v9juM
================================================
Here is a word file copy of a book that is life transforming. Next to the Bible this book has blessed me in my Christian walk through the years, It is public domain so download and enjoy.
Hudson Taylor's Spiritual Secret
=================================================
Free songs are available on the "

Music

" Page
———————————————-
-To see videos of Baptisms in the ocean click below-Baptism Videos
————————————————————————–
Here is a short video filmed in the highlands of Cape Breton with an important message for you.
———————————————————————–
Some of the material that was on the front page has been moved to Stories and Testimonies and Archives Pages (See Menu)