Listen to Ravi Zacharias answer a question "Why are you so afraid of subjective moral reasoning?"
Here is an amazing true story
if anyone has a loved one in a comatose state then you will be encouraged by this
—————————————————–
Pastor Pierre Chiasson and Elder Gordon Cormier were in Louisiana in April 2013.
Here is a note as to what they did there.
Click on the link below to see Gordon and Pierre sing in French in Louisiana
Our New Church Property!!!!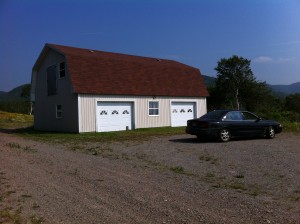 God has blessed us with a property in Point Cross on the outskirts of Cheticamp. It has 19 acres with a 40′ X 28′ building with 2 floors with access to sewage and water. Three years ago we started saving for a church home for our congregation. We had saved up $40,000 in free will giving plus some operating money. This property was for sale last year for $99,000. It dropped to $65,000 this spring and we prayed and offered $40,000 and the seller accepted with expenses on top of that.
While we know that the church is the people (not the building) it is wonderful to have a building of our own to meet in. It will take time, funds and renovations before we will be able to use it but as God has provided so far we trust that he will provide all that is needed to complete the project.
We do appreciate the Kinsmen Hall and are happy to be there for the present but anticipate being in our own building
Go to "Sermons/Pics" Tab above and in drop down tab click on "Photos" to see more Pics