Marie Chiasson's Journey Through Cancer with Christ
Here is the story of the Pastor's first wife Marie Chiasson's journey with cancer. It is a remarkable journey with the presence of God all the way through. There are gaps in the timeline because there were times when she was feeling quite good and was active. I hope this story can be an encouragement to those who struggle with cancer and the fear of dying. God can heal cancer or he can prolong our days but the real victory lies in a personal relationship with Jesus Christ who can bring powerful peace in times of trouble and guarantee heaven at the end of the journey. If you trust in Him He will forgive all your sins through His death on the cross and be with you in every situation so you will be able to say "THE LORD IS MY HELPER; I WILL NOT FEAR. WHAT CAN MAN DO TO ME?"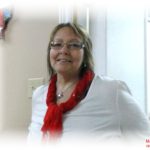 The beginning
On Sept 17th 2013 on Marie's birthday she noticed a lump on her neck about the size of a marble. By the time we got to see her family doctor and have an x ray and ultrasound the lump had grown significantly. She was referred to a throat specialist in Oct and He ordered a CT scan of her abdomen and in a subsequent visit with him he indicated that a growth on her liver could possibly be cancerous. He did a biopsy from the neck growth and referred us to a liver specialist. In early Nov we went to see him and he confirmed that it was cancer and said that it was inoperable. He said that she was very sick and that she would have about 4 months to live without treatment and even with treatment not much more. He referred her to the cancer clinic and on Dec 4th we met with the oncologist. He said that from what he saw on the reports he thought that 3 months to live was more likely. He said that when he looked at her chart before he saw us he wondered if treatment was worthwhile because it looked so bad. He was shocked when he came into the room because he expected to see a very sick looking woman. He said " I am amazed at how healthy you look- You look robust and the charts tell me that you are extremely sick. There was a 5 cm tumour on her liver and multiple lymph nodes around the liver were enlarged along with nodes in the diaphragm area infected as well. By this time the growth on her neck was over 5 cm in diameter. The doctor said that because she seemed so healthy on the outside and she was only 54 that he would try aggressive treatment of chemo. He said that she had stage 4b cancer and there is no stage 5. He said that the percentage of people that respond to treatment with the cancer that she has is only 30% for any favorable response. There is no cure and the object of treatment was to prolong life as long as possible. The very best case scenario that he offered was 2 years at the most and that was highly unlikely. It was not a hopeful picture. God was with us in this and the doctor was amazed at how calm we were. He kept asking us if we really understood how serious this was because we were so calm. The Lord is with us and He will carry us through.
———————————————————————-
Nov 22nd 2013
Well. this is not easy to say but I am posting it so everyone can pray for us. My wife Marie has been diagnosed with liver cancer. As difficult as this is we are experiencing amazing peace from God and we are so thankful for all that God has blessed us with- A true love with each other that has only deepened as the years have gone by, A beautiful daughter who brings us much joy and the wonderful salvation that Jesus has given to us by dying on the cross. We don't know what tomorrow will bring but we know that we are safe in His hands. It is wonderful to have His peace in the middle of this storm. Marie is not feeling sick right now so we are enjoying each day. She is filled with peace as God is giving great strength. We are praying for the miracle working power of God at this time because He is able to do anything. Some people call cancer "The Big C" but there is a Bigger C than cancer and that is Christ. He has conquered cancer. He can heal her from it but even if He does not He has conquered death itself so those who trust in Him will go to heaven at the end of life's journey because Christ died for our sins. The Elders of our church will anoint with oil and pray for her tomorrow according to James 5:14-15 in the Bible (Friday Nov 22nd at 10:00). We are asking for your prayers to join with them and that you would continue to pray. Everyone has been so supportive and God is with us.
—————————————————————
Nov 23rd 2013
I want to thank everyone for their overwhelming support and prayers for us. We sense God's presence on us in a powerful way. Marie has had incredible peace since we heard last Monday but I was having some anxious moments but when I posted for prayer last night about a half hour later an incredible peace has come over me and has not left. Oh the power of God at work when His people pray! Today we are both rejoicing in Jesus that He does all things well and our joy is in Him alone. I am sure we will have our moments but we are trusting in Him who says
"Fear not, for I have redeemed you; I have called you by your name; You are Mine. Isa_43:1
——————————————————————–
Mon Dec 9th. 2013 Update on Marie's condition
Marie had her first chemo treatment on Mon Dec 9th. She had no discomfort and no adverse reaction for the first few days. About 4 days later she developed a rash. She was scheduled to have another chemo on Tues Dec 17th. As a result of the rash (allergic reaction) this chemo was cancelled. The next treatment is on Dec 30th in Sydney. Marie is relieved not to have chemo over Christmas. She feels quite well just tires easily. I have been spending much more time at home with her and she says I make a pretty good nurse.
We are experiencing God's incredible peace through all of this and we are extremely grateful for all the support we have received from so many of you. Thank You.
Dec 29th 2013
Marie has a chemo treatment tomorrow Mon Dec 30th at 11:AM. She has been feeling very good over the holidays. One of the blessings that she received is that the chemo treatment from Dec 7th has taken away the pain from her rheumatoid arthritis. For the past few years she has had constant pain from this and was on medication and daily painkillers. She is no longer on any of these and is completely pain free. She feels better than she has in a long while. We have some apprehension over the next treatment as the last one did cause a pronounced rash. That has disappeared but we appreciate prayer for tomorrow.We are very grateful to the Lord and we are still experiencing God's incredible peace. We are extremely grateful for all the support we have received from so many of you. Thank You.
—————————————————————
Jan 1st 2014
Marie had her treatment on the 30th in Sydney. She also saw the Oncologist who put her on a new chemo drug to replace the one she took a rash from. He examined her and said the lump on her neck did not decrease but it also did not seem to grow. He is using this lump as a measure of success for the treatment of the tumors in the body. She did not have any adverse reaction to the chemo but has been very tired for the last 2 days. Her next treatment is on Monday January 6th in Inverness.
Please continue to pray for Her and Grace (Our Daughter) and I as we walk this difficult journey. We are still experiencing the incredible love and strength of God in this time.
——————————————————————–
Update on Marie's condition January 9th 2014.
Dear praying friends; Thank You so much for all your prayers and support for Marie. We are thankful to share with you that there has been a 50% reduction in her tumors!! This means that prayer is being answered and the chemo is working. Marie will continue to receive chemo treatments. She does tire very easily as the chemo drugs are very strong. There is still a journey ahead of us but we are very thankful for everyone standing with us in this trial.
What a privilege it is to be part of the family of God.
1Co 12:26 And if one member suffers, all the members suffer with it; or if one member is honored, all the members rejoice with it.
1Co 12:27 Now you are the body of Christ, and members individually.
———————————————————
January 22nd 2014.
Marie's tumors have continued to shrink (25% more reduction!)so we are very thankful for this reprieve and she feels good. She has to be careful of infection as her white cell count is lower due to the chemo. Prayers are working so thank you again for your ongoing support. Her next treatment is next Tuesday. It has been nice to have a break from the chemo over the last week and a half. We are continuing to experience God's amazing peace and presence daily.
Do not be anxious about anything, but in everything, by prayer and petition, with thanksgiving, present your requests to God.And the peace of God, which transcends all understanding, will guard your hearts and your minds in Christ Jesus. Php 4:6-7
———————————————————————–
Update as of Jan 30th 2014 on Marie's treatments
Marie's tumors continue to slowly shrink. Last week her white cell count was a little low so they put off treatment till this week and her count has come back up to a very good level. She has not gotten any colds or flue so we are thankful for that. She had chemo on Tuesday of this week and feels pretty good although she had some nausea yesterday. Considering that she has stage 4b liver cancer it is amazing how she is doing. The doctor has remarked on how healthy she looks with such serious cancer. He said he is baffled by it.
God is upholding us and your prayers are what He is using to keep us trusting and serving Him. Marie is still doing the bulletin and prepares lessons for Kids Club in Cheticamp each week. She is not one to be idle and do nothing.
There is no way that we can thank you enough for your prayers, phone calls, visits and gifts. We are grateful.
Perfect Love Casts Out Fear (1 John 4:18)
———————————————–
March 6th 2014
To all our praying and supportive friends: Marie had a cat scan yesterday to determine the success of treatment and the results (in the words of the oncologist) were remarkable. Remember that the original diagnosis was 3-4 months to live if there was no response to treatment and possibly 2 years with treatment with little likelihood of a response to treatment at all. The tumor that was on her neck was bigger than a golf ball and it is now the size of a pea. This tumor is an outcropping of the other tumors in her body in and around the liver and in other lymph nodes. The CT Scan has revealed that all the tumors have shrunk dramatically!! We are so gratefully to the Lord for answered prayer as from the Doctor's perspective this is rare to see such success. Marie's blood levels are low so she will be taking a break from chemo for a few weeks and then go on a much lower dose with minimal side effects after that. The Doctor says if not treated the tumors can grow back rapidly and this is a reprieve and not a cure. She will be on a maintenance mode of chemo to hopefully ensure that the tumors will not grow back and get periodic scans and tests to monitor the situation. Please continue to pray as it has been nothing short of miraculous what God has done so far. We are so thankful to the Lord and all of you for such overwhelming support.
——————————————
Update as of April 3rd.
It has been a month since the last update so here is what is happening.
Marie's blood levels are back to normal as the chemo that she is on does not attack the bone marrow like the other one did. The tumors have not grown and she is feeling better by the day. Her energy level is increasing and she feels much better. She still has to pace herself but we are rejoicing in the good health that she is experiencing. She had a chemo treatment 2 days ago and it hardly seemed to affect her. The treatments are every 2 weeks and they will do a major check in 2 months time to see what is happening. It is now 5 months since the diagnosis and she is much improved from that date. God has been so good to us in this journey. Our house has not been a house of mourning but a house of joy in spite of the cancer. Our hope runs deeper than life itself. We are thankful for this reprieve from God and so thankful for your prayers. Please continue to pray, for we believe this has played a great part in what has taken place and we recognise the need for ongoing prayer.
I conclude with a short note from Marie that she shared on Facebook a few weeks ago.
"My heartfelt thanks to all who have prayed for us and helped us during this time of trial. It has been difficult and is continuing to be hard but the Lord is providing strength every day. The Doctor said there is no guarantees in all of this. Our guarantee is our hope in Jesus and our absolute assurance of heaven because of His sacrifice on the Cross for my sins. We have had multiple opportunities to share our hope and faith to those asking questions about the peace we have. Our prayer is every day will count for Jesus."
Love Marie
—————————————————-
Update as of June 14th 2014
Marie has enjoyed relatively good health over the past few months and has become much more active. However, about a month ago we noticed that the lump on Marie's neck has started to grow again. It is about the size of a marble. We saw the oncologist on Thursday, June 12th and he said the chemo Marie is on is no longer working so he has to try a different one. He ordered a cat scan as well to see what else is happening. The new chemo drug will have to be administered in Sydney at this time so we will be doing more travelling. We are still resting on the everlasting arms and we were just sharing with each other that we had a good winter. God is so good and we appreciate all that He has done. We want to thank everyone for all their prayers as the incredible peace that is upon us has not lessened with time but has remained on us. Keep on praying!!
Isa 26:3 You will keep him in perfect peace, Whose mind is stayed on You, Because he trusts in You.
——————————————————-
Update as of July 8th 2014
Marie has had one treatment of her new chemo drug (Docetaxel or Taxotere) on June 23rd. She had to take steroids with it before and 3 days after. At first there was no reaction to it and she felt really good for most of the week from the steroids but by Saturday she began to experience blisters on her scalp and in her mouth which were uncomfortable. By the next weekend she began to loose her hair. This is the first chemo to affect her hair. She still has most of it but it is going fast. The blisters have subsided so that reaction is gone for now. Last weekend she had a temp and her white cell count was low so she had to go to the hospital and get on a triple dose of antibiotics. She feels pretty good right now but tires easily. Her next treatment is supposed to be next Monday (July 14th) if her blood counts are OK. It is early to tell if the chemo has any affect on the tumors but it does seem the one on her neck is smaller. Thanks again for your prayers. We are still experiencing God's peace and presence. Marie said today the loss of someone's soul is far more important than the loss of her hair so she has been spending time praying for others.
———————————————-
Update on Marie's health as of July 26th 2014
Marie has had a second treatment of the new chemo and we can say that there is a definite shrinkage of her tumor on her neck! Praise God! I can't seem to find it at all but Marie can still feel it. She says it is shrunk back down to the size of a pea. We will be able to tell better what is going on inside when she has a CT scan on Sept 4th. She has one more treatment on Aug 6th before the CT scan. The Doctor prescribed steroids for a longer period and that has helped alleviate the side affects some. She tires easily but we are so thankful for the presence of God and the peace He brings. Thank You again for your prayers
——————————————————————-
Update on Marie's health as of September 4t 2014
We were in Sydney today for a cat scan and a meeting with the doctor afterwards. The tumor on her neck is almost gone and where there were multiple tumors on her liver there is one. This tumor has also shrunk as well!!. The chemo has not been easy as it has caused an ongoing fever especially in the evenings. This has been managed with Tylenol but it is tiring. The doctor has recommended that she take a further break from chemo for another 10 days. We are grateful for the break as the effects of chemo accumulate on the body. Once again thank you for your prayers and care. We are grateful to the Lord for answered prayer and trusting Him day by day. Remember it was highly unlikely as far as the doctor was concerned that she would be alive past January 2014. God is good and we trust him for each moment and find His strength is enough for our weakness
—————————————————————————–
Update on Marie's health Dec 1
st
2014
First we want to extend a grateful thank you to everyone who has supported us on this journey. Your concern and prayers and gifts have been really appreciated.
Marie had a cat scan in Nov and we saw the Doctor a week ago. The report was good as all but one of the tumors have shrunk. One of them in the liver has increased by a millimeter which the doctor said is not significant. The only issue is an ongoing low grade fever (37.7C or 100F) that requires a continuous use of Tylenol to keep down. This fever showed up as a side effect to the chemo treatment and it was controlled by the steroids and then it would go away prior to the next treatment. This time it is a month since her last treatment and the fever is still showing up. It could be the accumulated chemo in her body or the fever could be cancer related. We are unsure. It is not from infection as her blood counts are good. We are rejoicing in the Lord for her relatively good health considering the diagnosis a year ago. Marie will be off chemo until the middle of January and then she will have a cat scan to see what is happening then. She has been quite active in the last month preparing Sunday School lessons, doing puppet plays, attending services and organizing our daughter's wedding shower and planning and shopping for the wedding on New Year's Eve. We covet your ongoing prayers for her and especially that this fever would dissipate. We are still being wonderfully upheld by the Lord in this journey and by God's grace we are asking God for the best but are also ready for the worst.
———————————————–
Update as of Jan 15th 2015
Marie had a CT scan yesterday and we saw the Oncologist afterwards. She has not had any chemo since Oct 30th 2014. There was a little bit of growth in one tumor in her liver but none anywhere else. The Dr. says that with the original diagnosis and the multiple tumors she had that it is amazing how well she is doing. He said that obviously prayer has been a big factor. There are no plans to do any chemo at the moment as he said this amount of growth was minimal and not a threat. He has decided to do another biopsy of one of the nodes on her neck to determine the pathology as it seems this cancer is much more responsive to treatment than they expected. They will do that biopsy this month and then do an assessment from the results of that test. All in all it was a good day. Marie's energy level is slowly rising and she is feeling better and her hair is growing back quickly and she is able to do more without tiring. Her rheumatoid arthritis has resurfaced now that she is off chemo and steroids so she is managing it with Aleve but it is still painful and inhibiting at times. She still has a low grade fever if she does not take Aleve or Tylenol. The doctor says it is likely from that spot on her liver. Even though the cancer is still there it is far less than what we were dealing with a year ago and we are so grateful to God for a good report and the improvement in her health. Our daughter got married on New Years Eve and it was wonderful that Marie was feeling good and able to fully participate in it. She has not spent one night in the hospital since her diagnosis over a year ago! God is good and we are so thankful for His mercy. We would like to thank everyone again for your prayers and support and please keep on praying.
————————————————————————-
Update on Marie's health March 6th 2015
Marie had a biopsy done in February (3 nodes from her neck) to see if they could determine the origin of the cancer as the doctor does not believe the origin is the liver even though it is in the liver. She also had an MRI as the Doc was trying to find the source. The low grade fever has completely disappeared as well. She has been feeling good and we are still rejoicing in the Lord. The Doctor says that it is evident that God is answering prayer and He is!! Thank You for your ongoing prayer support. We saw the Doctor yesterday and here is what Marie says in her own words.
"Good news, the doctor said my bloodwork has shown improvement and since I feel so good he said there is no need of chemo right now. The biopsy did not tell them anything. He said 50% of cancer patients don't know where it originates from . So another cat scan in April to see if if tumours are changing. As long as I feel ok he said just leave things alone. The specialist will look at the MRI next week
———————————————-
Update on Marie's health April 15th 2015
Marie had a cat scan last week and blood work and we saw the oncologist today. The report is that there is very little change. There was a small amount of growth but not significant enough to be concerned about. Blood work was good so no treatment and a checkup in 2 months time. Marie has not had chemo for 51/2 months now and feels good and her energy level has gone up. Thank you so much for your prayers as God has so graciously answered them for us.
—————————————————–
Update July 26th 2015
Lately Marie has been feeling a little more tired and we could tell that the tumors were growing more in her neck. Marie had a cat scan last week and we met with the doctor afterwards. After consultation with a team of doctors the recommendation is to resume chemotherapy. She has been off chemo since Oct 31st 2014. It has been a good break from chemo and she has had a good winter and spring. She was basically on aleve for arthritis pain management and that has worked well. We were expecting this and she will get her first treatment on Thursday July 30th in Sydney. Overall she still feels pretty good. We have appreciated all the prayers and look for ongoing prayer in the days to come.
——————————————————————
Update on Marie's health Sept 12th 2015
It will be 2 years on the 17th of September that Marie discovered a lump on her neck that turned out to be cancer. What a journey it has been but what grace God has given to us each step of the way. The last report in July indicated that she would be getting treatments again. She has had 2 treatments (1 every 3 weeks) which she gets in Sydney. We have not yet had an assessment done on the results but we can already tell that there is definite shrinkage on the tumors in her neck so we are praising God for that. The chemo has brought fatigue with it and a reoccurring low grade fever so she has been very tired but still gets out quite a bit. Regular use of Tylenol keeps the fever at bay. All in all it looks like things are going in a positive direction again.
We are so thankful for your ongoing prayers. It is a miracle that she is still with us and is doing so well but please continue to pray for her.
With grateful hearts Pierre and Marie Chiasson
———————————————————————-
Update on Nov 3rd 2015
Marie has had 4 treatments of taxotere since July 30 2015 and at first the results were promising as the tumors shrunk by over 50% in the first 2 treatments but after a recent cat scan we have seen that they are growing again which tells us that this chemo is no longer effective. She will take a break from chemo as the doctors reassess what will be the next course of treatment. It will be good to have a break from chemo as it is quite tiring for her. It may be after Christmas before she begins another course of treatment. She has been very active and had a wonderful visit from 3 sisters and a brother from Alberta and a sister from PEI all in one week. God is good in every way. We do appreciate your prayer support and ask you to continue as we do not know if the next chemo they try will be effective. God has been very good to us and we are rejoicing in Him in spite of cancer.
—————————————-
Update on Jan 5th 2016
It has been 2 1/2 months since Marie was on any chemo. She had a "Cat Scan" on Dec 29th and we saw the doctor today for the results. The results show that there has been some growth in the tumors in her liver and abdomen. It is not rapid so we have agreed in consult with the doctor to hold off on any treatment for at least 6 weeks. If she feels good then we will wait longer. She has been feeling quite well. She still has some tiredness but she is quite active. With the use of a very small amount of steroid she no longer has any fever issues. The doctor does have a chemo he could try but for now we will enjoy the break from it and keep praying for God's continued intervention. Should the tumors get to the point that they are a danger or are affecting her well being then we will resume treatment. We again cannot put in words how much we appreciate the love care and prayer that we have felt from so many. Thank you and please continue to pray. It is now over 2 years since the first diagnosis and we are enjoying life and enjoying the Lord.
—————————————————-
Update on Marie's Health March 31st 2016
It has been 6 months since Marie was on any chemo. She had a "Cat Scan" last week and we saw the doctor today for the results. They show that there has been some growth in the tumors in her abdomen but the tumor in her liver has stayed the same. There is also some growth in the ones in her neck. Like the last time it is not rapid so we have agreed in consult with the doctor to not use chemo for now. We are very glad about that. He is quite surprised that the growth is slow and it is not spreading anywhere else. It has not spread anywhere else since it has been discovered 2 and a half years ago. She has been feeling quite well and has some tiredness but she is quite active. With the use of a very small amount of steroid she still has no any fever issues. Instead of chemo the Doctor is going to try a pill that is a hormone suppressant. This pill has little or no side effects.It is often used with good results in the treatment of breast cancer. While there is no evidence of breast cancer in her body the cancer seems to be behaving like it is breast cancer so He is going to try this pill for 6 weeks and see what the results are. We are very grateful to the Lord for answered prayer and glad the we are not facing chemo at this time. We have had a wonderful winter and we are trusting in His steadfast love. Thank you again for your faithfulness in praying for us.
————————————————————–
April 2016
The hormone pill did not work so we are going back to chemo. Tumors have grown some in the meantime
—————————————————
May 16th
Marie is getting radiation on her neck tumor to shrink it as it is getting uncomfortable. It is a five day treatment.
Lam 3:22 The steadfast love of the LORD never ceases; his mercies never come to an end;
Lam 3:23 they are new every morning; great is your faithfulness.
————————————————–
May 24th
Pray for Marie tonight as she is staying at the Cape Breton Regional for some tests and scans. White cell count is up and hemoglobin is a little low
———————————————————-
Thursday May 26th
We are still at the hospital. Marie is feeling a little stronger today as her white cell count is going down and she had a transfusion yesterday. We are waiting for a colonoscopy test. Still not sure if she can get it done today due to backlog of people waiting. Thank you so much for your prayers and concern. It is awesome to have your support and care. We are experiencing God's peace and presence each moment for we are in the hands of a wonderful caring Savior who has promised "I will never leave you or forsake you".
—————————————————
May 28th
Feeling better, I have a uti which went septic. My 2 legs are very swollen, but I am able to get around on my own. Sleeping almost all the time. Might have to stay in the hospital for the weekend. Thank you so very much for your prayers and love!! In Christ we are joined by everlasting love for everlasting time. One of those wonderful hidden blessings.
————————————————–
It is Sunday May 29th.
Marie is still in the hospital and it looks like she will be here for the better part of next week. She is a little stronger but still very tired. Her white cell count is down to 21 from 29. Normal is 10 or 11. The blood levels are staying about the same but still on the low side. They will do the scope sometime next week. She has some pain but it is managed with painkillers. We are grateful for all your love and prayers and are experiencing God's presence and peace.
——————————————————-
Update on Marie's health June 10th 2016.
Marie is resting comfortably and is not experiencing any pain. We are in a holding pattern as we wait for surgery. Her bile duct is blocked and it is causing jaundice. |It is apparently a fairly easy surgery to do. That is they open the duct or drain the bile from the liver. She does not have infection now. but they can't start chemo until the jaundice is cleared up. Hopefully they will do the surgery Mon. Thanks again for all the love, prayer and support.
PS She had a wonderful visit with her sister and brother from Alberta.
——————————————————-
June 6th 2016
Here is an update on Marie's status. First we would like to thank everyone for the mighty column of prayer that is going up to God on our behalf. Marie and I and Grace are experiencing incredible peace day by day. Going back a few weeks it was evident from a cat scan that the tumors were growing and it was time for chemo again. In the meantime it was decided to apply radiation to the neck tumors for shrinkage and comfort. This was just five days of treatment which ended on the 24th of May. At that time it was determined that Marie had an infection and needed to be admitted into the regional hospital in Sydney. She became very week and also was jaundiced and some swelling in her legs. She has been on a course of antibiotics since then. The jaundice had increased and her white cell count did not go down so that there was concern that she would not be able to even try the chemo again. Much prayer was offered up this past Sunday and today the swelling is gone in both legs. She is much stronger and had a wonderful day. She is still weak and has a long way to go to gain back her strength. After consulting with our oncologist he has decided to take her off the antibiotics and she how she fares. If there is no adverse effects then he will give her a transfusion tomorrow evening and try a dose of chemo on Wednesday. Her brother and sister are arriving for a visit from Alberta tomorrow so that is exciting to say the least. It is hard to put into words the presence of God with us on this roller coaster of ups and downs but He is so filling us that we are being carried along. He truly is the God of all comfort. Thank you for all the offers of food and lodging and prayers and hugs and visits etc. We are so blessed. Rom 14:8 For if we live, we live to the Lord; and if we die, we die to the Lord. Therefore, whether we live or die, we are the Lord's.
—————————————————-
Update June 13th
Marie will have surgery on Thursday to see if they can open her bile duct. We so appreciate your continued praying.
————————————————-
Update June 16th
Marie's surgery was a success! Stint is in the bile duct and it will eliminate the jaundice. Thanks to everyone for their prayers
——————————————————–
Update on Marie's health June 23rd
Marie has definitely experienced improvement. A week a go they placed a stint in the bile duct and as a result her jaundice is almost gone! The levels of toxins in her blood are way down from what they were. Her hemoglobin has come up and seems to be staying up so that is good. She does have a uti and is on an oral antibiotics for that and even though She still tires quite easily but she is more active and brighter over all. The Doctor is hopeful that he can start a chemo treatment early next week. We are still experiencing God's incredible peace daily and so thankful for your prayer and support.
——————————————————
Update June 24th
They have discovered a blood infection which requires intravenous antibiotic. They are starting this right away. This may push the timetable for chemo ahead.
——————————————————
Update July 1st 2016
Marie was allowed to go home overnight. It was wonderful to have her home. We are going back to the hospital this morning. Waiting on blood work results and chem next week if bloodwork is ok. God is good!
—————————————————–
Update on Marie's health July 7th 2016
It has taken a few weeks to drain the poisons out of Marie's system from the plugged bile duct. With the operation being a success in opening it up with a stint most of her blood levels are back to normal now. She did have a complication with a blood clot in her leg. A portion of it broke off and went to her lung and her breathing was inhibited. The Lord is gracious as that clot dissolved an she is breathing fine. They have her on a blood thinner now. The plan is to have a chemo treatment tomorrow morning and then observe her reaction to it. If all goes well then a possible transfer to Inverness or Cheticamp hospital. She will get a weekly dose of chemo and then it will be a wait and see situation to see if it is effective in shrinking the tumors. Thanks again to everyone for your concern and prayers.
I will call upon the LORD, who is worthy to be praised
Psalm 18:3
————————————————-
Another update July 8th. Marie had her chemo at noon today and everything went smoothly. She has had no visible side effects and feels ok. If everything continues this way then it is a good possibility that she will transfer to Inverness hospital which is 12 miles from home as opposed to 100 miles in the present hospital. They can administer this chemo at that hospital. The next dose is scheduled for next Friday. Now we will pray and see if the tumors shrink. It has been a big day for her and she is very tired. God is good! You are my hiding place; You shall preserve me from trouble; You shall surround me with songs of deliverance. Psalm 37:2
————————————————-
July 12th 2016 update. Well here we are at the Inverness hospital. Marie came here by ambulance yesterday and it is nice to be close to home. She has not had a bad reaction from the chemo and is scheduled for another treatment Friday.
————————————————–
Update on Marie's health
Sat July 16th
Marie had a fairly good week at the Inverness hospital. After her first chemo treatment that she had in Sydney her hemoglobin dropped to 65. She had 2 units of blood on Tuesday which brought it up to 88. This enabled her to get her next dose of Chemo yesterday (Friday). She took it well and feels good today. It will take some time before we know if the chemo has any effect on the tumors. Thank you again for your prayers. We are experiencing God's continuing grace through it all.
Isa_26:3 You will keep him in perfect peace, Whose mind is stayed on You, Because he trusts in You.
————————————————–
Friday Aug 5th Appreciate prayer for Marie tonight. She had been vomiting some blood so they are giving her transfusions and took her off thinners and giving her meds to stop the bleed which is likely in the stomach. She is feeling a bit better now.
——————————————————–
Posted by Marie on Aug 6th on facebook
The dr don't seems to think I'm going too make it thru the day, so good by dear friends
—————————————————-
Posted by her daughter Grace on Aug 7th
Even though Mom's report remains the same – she is calm and comfortable, and continues to look as beautiful as ever. All is well in room 224. Heaven is near, the next floor up.
——————————————————–
It is Friday Aug 12th. Marie had a rough night last night. Her breathing became shallow around 2 am and her heart rate went up over 200 bpm. They gave her some meds to bring it down which knocked her out for most of the day. She slept deeply today and was more alert this evening. Heart rate is good today and she is sleeping well tonight. Thanks again for all your prayers
————————————————–
Aug 13th (10:50 PM) Marie is resting comfortable tonight. She slept most of the day and was not on any pain drugs since 4 this morning and that was given to help with her breathing. She is barely conscious but will still respond to me sometimes. I asked her tonight if she was comfortable and without pain and she nodded yes. They did give her some meds this evening and hopefully she will sleep through the night. Hilda our dear friend who has been such a support is going to sit with her in the morning so Grace and I will be be in church in Cheticamp. We have been living in the hospital all week day and night with very little time away so it will be good to be with our Christian family there. I am looking forward to sharing from the word what God has laid on my heart. God's blessing on all of our wonderful friends who have been so supportive. There is such a vast network of people here and all around the word praying for us and we are experiencing the power and the presence of God in the midst of sorrow and pain. We can say with the apostle Paul that we are sorrowing and rejoicing at the same time.
2Co 6:10 sorrowful, yet always rejoicing;
Thanks again for all your love and care
——————————————————-
Aug 14th 2016 . Early this morning the Lord took Marie to heaven. Last night she was sleeping with her hand under her chin and looked so peaceful. At 9:pm i asked her if she was comfortable and she weakly nodded her head. After that she did not respond. She stayed in the same position throughout the night. I checked on her every few hours and in the early hours of the morning she peacefully breathed her last in this world and woke up in heaven. How we praise God for His goodn
ess in answering prayer and taking her home peacefully. We know that the word of God teaches us that when we are absent from the body we are present with the Lord. Grace and I are at peace with her passing and would not want her back under the condition she was in. Her struggle is over. She knew where she was going and has arrived. In 1978 she accepted Christ as her Savior and had a full assurance that she was saved and going to heaven because of what Jesus did for her in dying for her sins. While there is sorrow there is also deep comfort and peace in our hearts. Dear friends How can we thank you for all the care,concern, help and prayer that has been expressed? I will let you know the details of the wake and funeral soon. God bless all of you.
————————————————————–
Posted by Grace on Aug 14th 2016
Early this morning my dear Mommabear, my best friend; and my Dad's most amazing and loving wife – went to celebrate and praise the Lord in heaven.
We know that as children of God we can say it is not farewell, but rather see you again. My Mom's battle with cancer has not been a losing one, she fought with the strength of God and the prayers and love of His people backing her up. Right up until the end, Marie was filled with a servant's heart. She always was praying for anyon
e in need, giving encouragement, and looking out for their needs. My Mom is a true warrior, a hero, an inspiration, and a model of how we can rely on Christ through all life's trials.
Friends, if I can assure you of anything – its that my Mom has been made well. Cancer will never truly win when God is doing the fighting. No one need fear what will happen to their earthly body when they have Him in their heart.
There are so many attributes of my Mom that have been a blessing to countless people all over the world; there's no way I could name them all. Those who have met and known her know this: She was such a talented, loving, caring, selfless, thoughtful, forgiving, and beautiful person inside and out.
Thank you Jesus that you have claimed Marie to her eternal home with you in Heaven. We no longer have to worry. There is no more suffering, no pain, no sadness for Marie. Her reward she is experiencing now is worth all of what she experienced these last couple of years. Praise God for such a wonderful woman, the best Mother I could ever ask for!